Friday, November 11th – Sunday, November 13th, join Native Alien for Scouting Mission, the "Make a Wish" edition. We are doing more than just relaxing in the hot springs this time, although, that is definitely a highlight. On this mission, we are inviting you to come check out the Ensenada club scene with us. Our wish is to eat great local food, enjoy some banging beats, and make some new friends! Make a Wish! Who do you want to bring with you for an adventure?
11-11-11
Friday morning, our group caravan meets in San Diego at 10am. Follow Red Sonya and Alien Tom south of the border to Ensenada Wine Country, as they take you to their favorite vineyards and winetasting rooms on the historic "ruta del vino". Meeting spot, full schedule, and driving directions will be emailed to you prior to our departure. You are responsible for your own transportation, and Mexican car insurance. Carpooling is encouraged.
Friday night, Spend the night in Ensenada for a night out on the town, featuring multiple stops including a "Red Alien Invasion" of the Eurobar at 10pm! Bring comfy dancing shoes! We will be staying in a local hotel in a safe walking distance to the clubs and restaurants. More information coming on hotel recommendations! Be prepared to pay cash for your hotel room Friday night.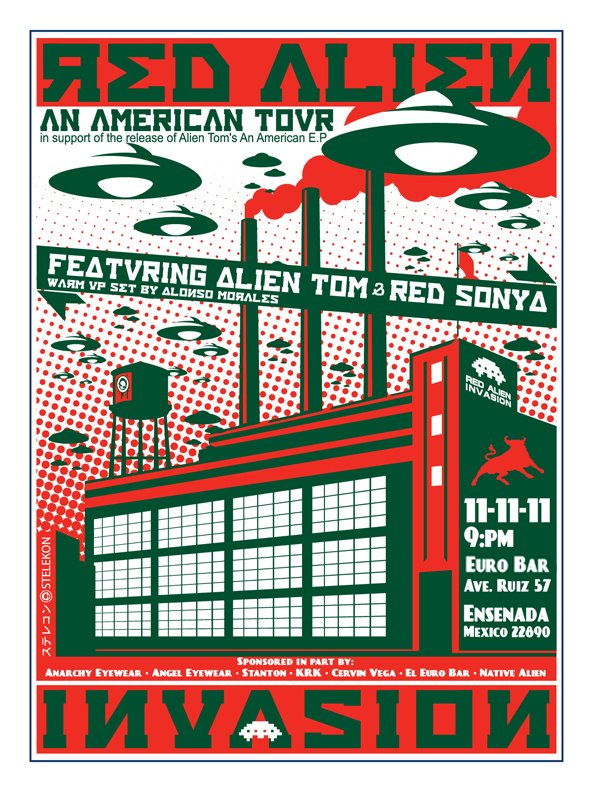 11-12-11
The party continues for round two at 2pm Saturday day at the Rancho Agua Caliente for a Camp Fiesta, a day-time into night BBQ and Pool Party. Don't forget to bring your bathing suits and towels.
Saturday night, Native Aliens are invited to stay either in a rustic hotel room or camp in the designated Native Alien campgrounds. Reservations are required to attend.
Contact us if you have any questions.