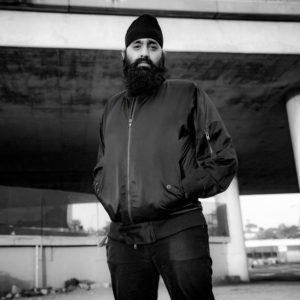 Navjeet Sarna
Starting his music career in 2003 with focus on Bhangra and Bollywood music, Navjeet's sound can best be described as sexy soul-try house and techno. His DJ sets leave one standing drenched in sweat, completely exhausted from the satisfaction of losing yourself in dark beats and lush melodies… interrupted only by an occasional cow bell.
With vision to serve, serve friends, family and most importantly community, Navjeet actively provides his gift of music both as a curator and performer; a combination that has helped to create intimate, compelling, and lasting memories on and off the dance floor, and a connection remains between the sound of his earliest work and the sought-after productions he now brandishes.
Few come as well versed in family values as that of long serving music curator and DJ Navjeet Sarna. In pursuit of seeking opportunity for better education, his family migrated to America from India in 1989 when he was just four years old. Throughout his upbringing, Navjeet developed a mantra that has remained a relatively simple one: Don't consider yourself an expert at anything. The day you do that, is the day you stop learning.
The choice was simple: There is no quicker way to learn how to become a great DJ than by making people dance from sunset to sunrise the next morning. If you can't hold the crowd for hours, you won't make it. It's learning by doing, Navjeet not only learned very quickly, he continued to love every moment of it.
To further bring the community together, he curates Alkaline Podcast. Alkaline Podcasts' philosophy of releasing music by DJ's in the Burning Man community has allowed the podcast to expand into Alkaline Live and Alkaline Sessions – monthly and annual events that showcase previously released Alkaline Podcast DJ's live. It was clear from the beginning that Alkaline intended to make a difference, and that here, all the connections Navjeet had made with like-minded souls could come into fruition. It's a platform conceived to keep up the music tradition to which all those involved stayed so faithful over the years.
Navjeet can be found playing as resident DJ for Alkaline Sessions and Soul Work events throughout San Diego, Perky Parts events throughout Orange County, at coveted underground renegade camping events, and Black Rock City (Burning Man).
His inspirations come from artists such as James Holden, Marco V, Four Tet, DJ Koze, Maceo Plex, Tale of Us, Nathan Fake, Kolsch, and Sven Vath.