Don't miss this special edition of Lady Lush at Blonde in San Diego featuring DJ Colette!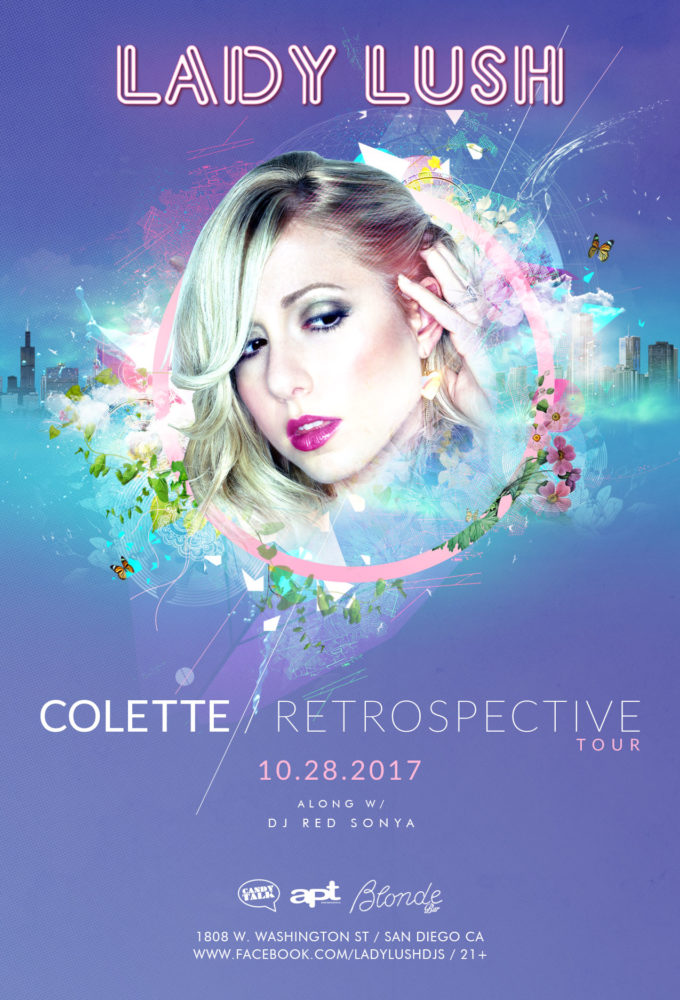 Saturday, October 28th 
♥ L A D Y L U S H ♥ 
@ Blonde Bar San Diego 
1808 W Washington St 
San Diego, California 
9pm – 2am | 21 and over 
Headlining DJ:
Colette [Candy Talk, Apt Entertainment]
Colette has evolved into a seasoned songwriter and producer, never far from the DJ decks, perpetually on tour spinning crowd-pleasing and party rocking sets. She was recently voted one of the best DJ's in Los Angeles by LA Times. Her love and devotion to the authentic house sound of hometown Chicago can be heard in every set, and generations of diehard fans never fail to appreciate it. Colette's album 'Hypnotized' was the most downloaded House dance album on iTunes (June 2005) featuring the singles "What Will She Do For Love", "Didn't Mean To Turn You On" and "Feelin' Hypnotized". Billboard named her 2013 album "When The Music's Loud" one of the top 20 albums of the year. Colette's album Retrospective is due for release in Feb 2017 on her label Candy Talk Records, showcasing some of her best loved tracks and reworked gems.
Resident DJ:
DJ Red Sonya [Lady Lush / Native Alien]
Go-Go Performances:
Supernovas Entertainment
Superstar Entertainment Dance Team birthed from a powerhouse of young and talented ladies committed to bringing celestial shine and energy wherever they go.
Specializing in dancers with custom made unique and fierce costumes for large scale music events, nightlife promotions, gogo dancing, print and promotional modeling, and specialty acts like aerial arts and stilting; The Supernovas are ready to ignite your experience to one of luminous magnitudes!